We purchased our home in 2003, and in 2008 started doing some add on construction. Under the added garage, we wanted to add a Home Gym. I guess you could call it the "Bunker Gym" with all of the concrete around and on top of it, I'm sure it would still be standing after a nuclear blast.
At any rate, we had a good amount of space to work with for the entire basement and I re-arranged everything to get as big of a space as possible for the gym.  Unfortunately, as you will see in the pictures, due to getting to the other rooms in the basement, the gym is kind of a "pass through" area, so we had to leave a spot open in the middle. Which didn't end up being too bad, as we used that space for different workouts. (my son uses it for P90X etc)
I have some more pictures and will post them up when I can find them.
Here is a pic of the entire basement. The gym portion includes one of the windows on the left side, and then to the back (minus a storage room along the back side)
We have a tunnel going from the house to the gym, this is a view from the end of that hallway into the gym (just finished sheetrock etc)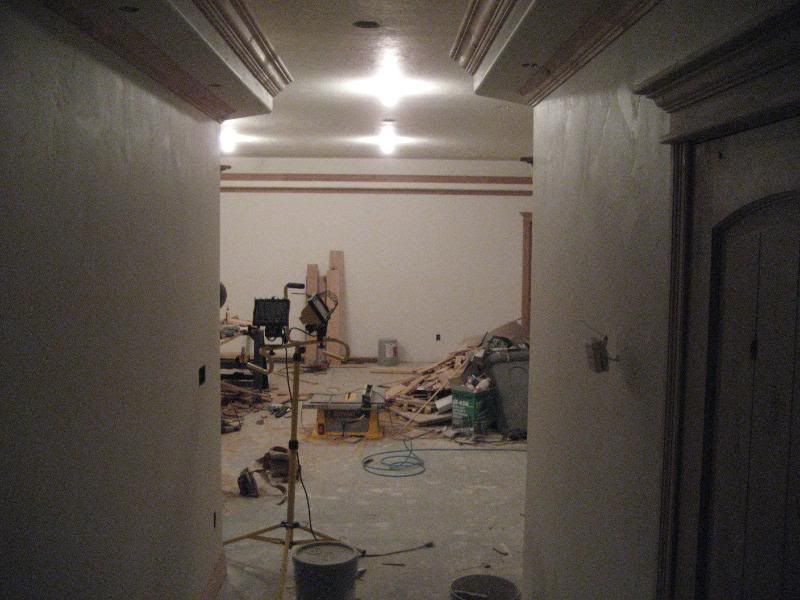 Getting the trim work finished in the Home Gym
This picture gives you a good idea of the space. I believe it's 28 feet wide, and about 25 long (I'll get some exact measurements and post them)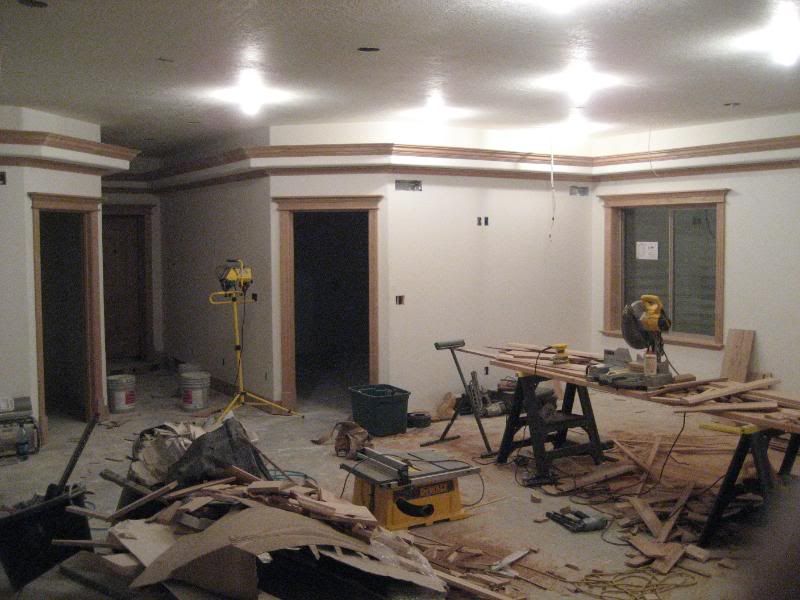 Skipping ahead a couple of weeks. We got the wood floor installed, and we are starting to put in the equipment.  The wood floor was a mistake (more about that later)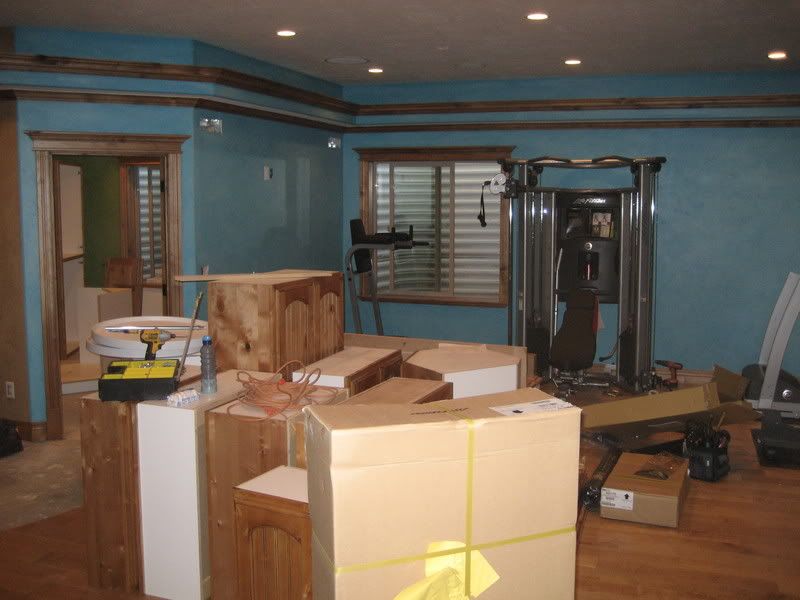 Some more of the equipment going in.  At first I was going to run outlets in the concreted, so we didn't have cords going to each machine. But since I wasn't 100% sure where everything would be, I opted to put outlets in the walls behind. Learn from my mistake, take the number of outlets you think you need, and triple it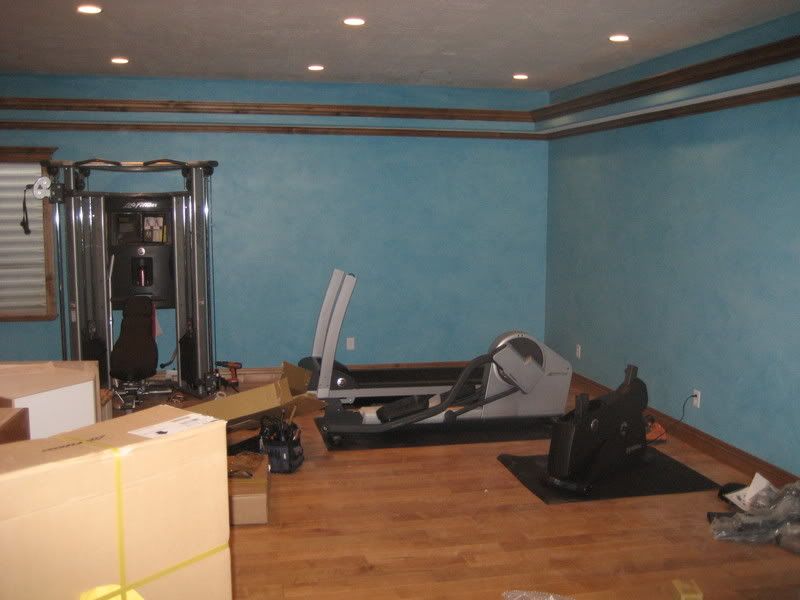 Got the free weight rack, and starting to put down the rubber flooring for that area.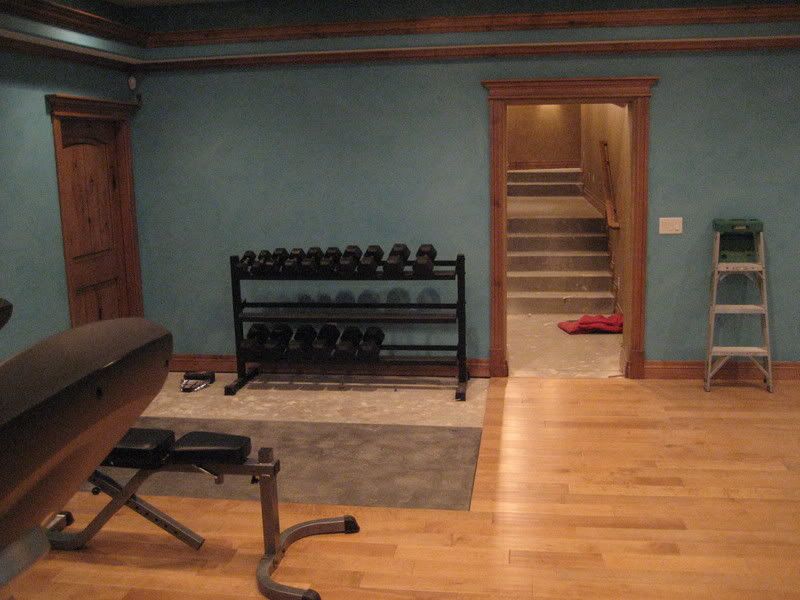 Semi complete.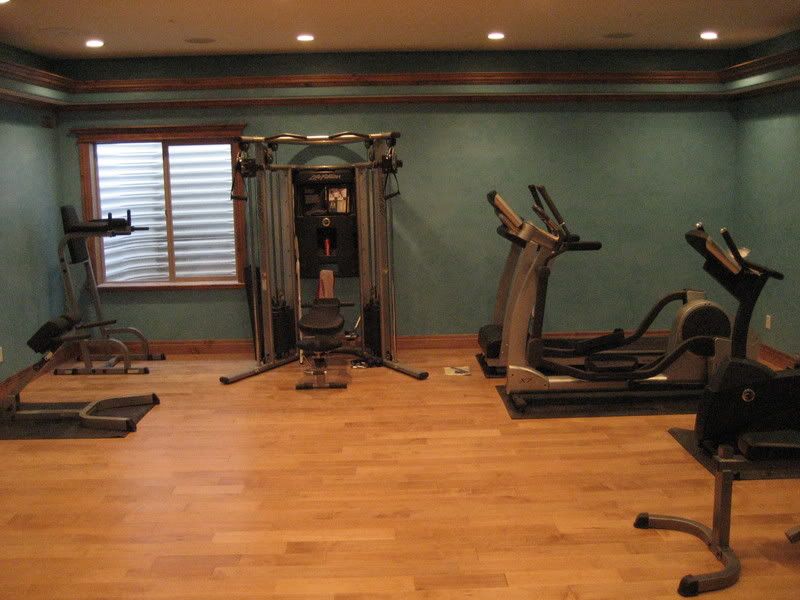 This is how the gym looked when "complete" in 2009. I'll take some additional pictures tonight and put them in this thread. 
Few things that hopefully will help people as you are building your home gym.
-Don't use wood (or laminate) flooring. That was a huge mistake on our part. I think it looks nice, but it's just not practical for a home gym. It scratches easily, the mats that are under the equipment slide around. In fact, right now we have a mat in front of the LifeFitness G7 machine, and we have to keep a couple of free weights on it to keep it from sliding all over the place.
-Make sure and wire for fans (to a switch)
-Dedicated A/C unit if you can. We like to keep the home gym at 62 degrees. Seems cold until you start working out.
-Find a spot to put a shelf etc for a DVD/Bluray player. For those that like to do P90X or someone workout like that, it will make it much easier to do.
-Make good use of your space. You can put cardio machines much closer to each other than you think, which will free up space for the free weight area, or a space in the middle for yoga, P90X etc
I'll keep this updated as I take some new pictures or think of anything else.  Looking forward to the journey here and seeing your home gym setups!